Workers' Compensation Doctor Selection
If you're an employee, who has been hurt on the job, it's time to see a doctor and get on the road to recovery.
Navigating your employer's workers' compensation plan can be difficult, which is why you should work with your employer's insurance provider to find a doctor covered by their plan. However, it's also important to find a physician you feel safe with and confident in.
Finding the right doctor can be tough, but a good place to start your search is with a clinic that has experience handling workers' compensation injuries and cases. MidAmerica Orthopaedics workers' compensation program has a strong reputation amongst risk managers, ER physicians, and insurance providers as a reliable clinic for workers' compensation cases.
At MidAmerica Orthopaedics, you can expect to recover both quickly and efficiently, in addition to finding support for handling your workers' compensation claim.
Direct-to-Specialist Care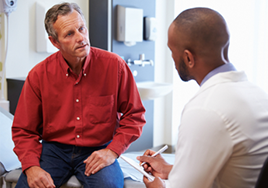 What makes MidAmerica Orthopaedics an effective choice for your workers' compensation treatment? Our direct-to-specialist approach.
Many workplace injuries are musculoskeletal injuries that require treatment from an orthopaedic specialist. With direct-to-specialist care, injured employees can start getting orthopaedic treatment immediately, without having to wait for a referral from an ER or primary care physician.
In addition to employees recovering faster by receiving more timely and direct treatment, they can return to work quicker, which lessens the burden on employers. Studies have shown that direct-to-specialist care saves up to 65% on workers' compensation claims, when compared to treatment from a primary care physician or occupational medicine clinic.
How to Choose the Right Doctor
When choosing the right physician for your case, look for physicians who specialize in specific areas of treatment that are most relevant to your injuries. The team of physicians at MidAmerica Orthopaedics is comprised of doctors, surgeons, physical and occupational therapists, who are leading experts in their fields and focus on all parts of the musculoskeletal system, as well as both surgical and non-surgical treatment approaches. Get to know some of our physicians below, and see if they might be the right choice for your treatment:
No matter which physician you choose to see at MidAmerica Orthopaedics, you can rest assured that you're in good hands. The direct-to-specialist approach at MidAmerica will insure that workplace injuries are dealt with efficiently and effectively in returning injured workers back to their livelihoods as soon as possible.
For more information on MidAmerica Orthopaedics Occupational Health Program, and to schedule an appointment with a MidAmerica specialist, please contact David Adam, Director of Workers' Compensation Services at 708-237-7206.