Available at MidAmerica's Palos Hills and Mokena Locations
If your knee has been severely damaged by arthritis or injury, and it's difficult to perform daily tasks such as walking, climbing stairs, or sitting, then you may be a candidate for total knee replacement. From surgery through recovery, MidAmerica's fellowship-trained physicians and knee specialists work with precision and care, striving for optimum results for each and every patient.
Dr. Sarkis Bedikian, a knee specialist, performs specialized knee treatment and surgery at MidAmerica. He has received honors and awards including recognition for medical leadership and induction into academic honor societies.
Dr. Bedikian is one of the few physicians in the Palos Hills/Mokena area who uses custom knee implants for his patients called ConforMIS—a unique, new implant designed individually for each patient, utilizing 3D printing and the patient's own CT scan.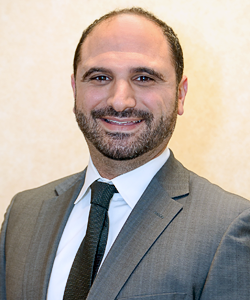 Common Causes of Knee Pain and Damage
Dr. Bedikian is experienced in treating patients experiencing varying causes of knee pain and damage. The most common causes of knee pain and damage are:
Osteoarthritis - an age-related form of arthritis, usually occurring in people 50 years and older, in which the cartilage that cushions the knee bone softens and wears away, causing the bones to rub against one another. Bone spurs are a common feature of this form of arthritis.
Rheumatoid Arthritis - a disease in which the synovial membrane that surrounds the joint becomes inflamed. It thickens and causes damage to the cartilage, which results in pain and stiffness.
Post-Traumatic Arthritis - a form of arthritis usually following a serious knee injury. Bone fractures or ligament tears cause damage to knee cartilage over time, resulting in pain and loss of function.
Examination at MidAmerica
The board-certified physicians at MidAmerica's Total Joint Clinic are dedicated to diagnosing and treating your knee pain using modern nonoperative and operative techniques. Your physician will:
Ask you to indicate the severity of your knee pain on a pain scale.
Ask questions regarding any other health conditions you may have.
Palpate the knee to check for pain, warmth, and effusion.
Test your knee's range of motion and listen for popping, grinding, or clicking sounds.
Check your knee ligaments, through performing a variety of tests which may include: the valgus and varus test, the posterior drawer test, the Lachman test, the anterior drawer test, and the pivot shift test.
Treatment at MidAmerica's Total Joint Clinic
A variety of non-surgical treatment exist for managing knee pain, some of which include:
Exercise and physical therapy to rehabilitate and strengthen the damaged knee.
Splinting (or bracing) to improve knee alignment and reduce both joint pressure and pain. Bracing will provide additional stability and prevent the knee from giving-out during activity.
Non-steroidal anti-inflammatory agents (NSAIDs), such as Ibuprofen and naproxen, to reduce pain and swelling caused by arthritis.
Corticosteroid injections to reduce inflammation and ease joint pain, usually injected directly into the joint.
Fortunately, knee replacements are one of the most successful procedures in all of medicine, with more than 600,000 knee replacements performed each year in the United States. The two most common knee replacement surgeries we perform at MidAmerica include:
Partial Knee Replacement
Partial knee surgery treats only the parts of the knee affected by osteoarthritis. A partial knee replacement offers unique benefits when compared to total knee replacement, which include a shorter surgery time and recovery time.
Total Knee Replacement
If your knee pain or osteoarthritis is so severe that a partial knee replacement will not help, you may require a total knee replacement, which surgically replaces all of your knee joint compartments. These include the inside (medial), outside (lateral) and front (patellofemoral) parts of the knee. ConforMIS technology allows the surgeon to apply data from your CT scans to construct a customized implant that is unique to your anatomy, which simplifies the surgical procedure and results in a more natural-feeling knee.
During the procedure, the surgeon will work alongside a robotic assistant and computer guidance system to ensure precision and accuracy. The robotic, surgical saw will make a series of incisions along the femoral and tibial component of the knee, removing damaged cartilage from the bone. The exposed bone is then sealed with bone cement and the femoral and tibial components are inserted (the surgeon may also choose to replace the back of your knee cap with a plastic surfacing component). Once the implants are inserted, the surgeon will guide your knee through a variety of movements to ensure a fluid and natural glide.
Recovery
The fellowship-trained physicians and knee specialists at MidAmerica's Total Joint Clinic in Palos Hills and Mokena are experts in the field of knee arthroplasty and our on-site Certified Physical Therapists (CPT) will aid you along your recovery journey every step of the way.
Total knee replacement surgery is considered a major procedure and a full recovery typically takes 6-8 weeks. However, with the aid of ConforMIS technology, recovery times are much shorter when compared to traditional methods. A patient might be required to stay in the hospital for 3-7 days after surgery.
Physical therapy is vital to a smooth recovery. The on-site Certified Physical Therapists at MidAmerica will be there to help you along your recovery journey. Within 24 hours of surgery, patients are encouraged to walk with the aid of a walker. Your physician will outline a strengthening routine along with a variety of stretches to increase range of motion and inhibit the development of scar tissue.
Why MidAmerica?
The physician's at MidAmerica are recognized experts in the field of total joint replacement, but don't take our word for it. Hear from real patients who have received a ConforMIS knee implant. Before, Marty M., age 74, wasn't even able to walk down the street. Now, he's playing golf and it only took six weeks! Learn about his recovery journey here:
At MidAmerica, we aim to provide the highest quality care marked by courtesy, respect and integrity. To make an appointment at Total Joint Clinic, or to learn more about MidAmerica's Palos Hills and Mokena clinics and the different treatment options available to you, call (708) 237-7200. Most insurance plans are accepted.