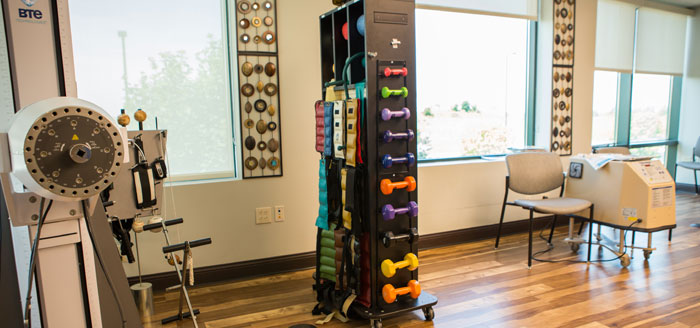 Physical Therapy is an important part of your recovery process. This is true whether your injury or condition is non-operative or requires surgery.
What is Orthopaedic Physical Therapy?
Orthopaedic physical therapy is a health care specialty involved with evaluating, diagnosing, and treating disorders of the musculoskeletal system. The ultimate goal of physical therapy is to restore maximal functional independence to each individual patient.
Who is a candidate for Physical Therapy?
Many patients require physical therapy whether as the mainstay of treatment or for post-operative rehabilitation. Examples of conditions which orthopaedic physical therapy is used to treat are:
Post-operative joints replacements (e.g., knee replacement surgery)
Sports injuries (shoulder injuries, rotator cuff tear, dislocated elbow, wrist injuries, hand injuries, dislocated finger, femur fracture, knee injuries, ankle fracture, foot injuries)
Arthritis, osteoarthritis, rheumatoid arthritis
Disease or injuries affecting muscles, bones, ligaments or tendons
Traumatic injuries such as fractures
Neck/back pain
What does Physical Therapy provide?
Preventative, Non-operative or conservative treatment
Management of acute or chronic pain
Design and implementation of home exercise programs to increase motion, dexterity, and/or strength
Training in the performance of daily life skills through adapted methods and equipment
Conditioning prior to returning to work
Restoration of function, mobility, and strength
Benefits of MidAmerica Physical Therapy
Directed Care under the supervision of your orthopedic doctor
Results oriented and progressive injury specific rehabilitation
Maximize functional outcome
Restore patients to their normal routines in the shortest time possible
MidAmerica Orthopaedics physical therapy is conveniently located at both our Palos Hills and Mokena offices.
For more information about our physical therapy programs or to schedule an appointment, please call us at (708) 237-7200. Our physical therapy patients come to us from Burbank, Alsip, Bridgeview, Frankfort, Tinley Park, Orland Park, Homer Glen, New Lenox, Oak Lawn, Worth and Evergreen Park.