At MidAmerica Orthopaedics Pediatric Clinic we focus on orthopaedic issues of children and young adults. Pediatrics (0-18 years) and adults will benefit from our expertise.
We have the most experienced and expertise in the Chicagoland area with open and arthroscopic hip preservation procedures, and also specialize in Sports Medicine, Trauma, and Scoliosis along with General Orthopaedics.
MidAmerica Orthopaedics employs pioneers in Non-Operative Treatment of various Fractures and several Foot and Ankle Disorders.
Our Philosophy
Our philosophy is to provide the highest quality health care based on experience, scientific basis and continuing education.
We will explain all the available treatment options, the benefits and risks of each, and our basis for recommendations.
We will keep you up to date on standard of care and new methods to be able to provide the best treatments available for any condition we plan to treat.
Specialties
EXPERTISE
Hip Arthroscopy
Hip Osteotomy
Pelvic Fractures
Scoliosis
Sports Medicine
Pediatric Orthopaedics
Cerebral Palsy
ANATOMICAL
Hip
Knee
Foot
Ankle
Spine
Shoulder
Elbow
Pediatric & Young Adult Orthopaedics
Dr. Prasad Gourineni, MidAmerica's Pediatric Orthopaedic Specialist, focuses on orthopaedic problems of children and young adults.
He has the most experience in open and arthroscopic hip preservation procedures, and also specialize in sports medicine, trauma, and scoliosis along with general pediatric orthopaedics. He has developed a variation of the Ponseti method for Pediatric Clubfoot that avoids Achilles tenotomy and is also the Founder of the Hip Preservation Society.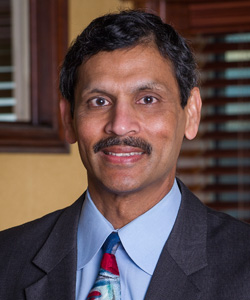 Dr. Chris Chapman, MidAmerica's Pediatric Sports Medicine Specialist, emphasizes healthy alternatives to surgery such as therapy and rehabilitation. He works with sports related injuries such as strains, sprains and even simple fractures.
Dr. Chapman understands a family's needs when it comes to injuries and prevention and looks forward to getting young patients and athletes back to being active and healthy!