Hip Dysplasia Palos Hills and Mokena
While most people who have hip dysplasia are born with the condition, it is possible to develop later in life. In most cases, patients of hip dysplasia experience relief after a few months of at-home treatment and therapy.
Causes, Symptoms, & Risk Factors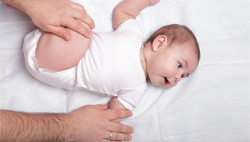 Hip dysplasia is most commonly a result of the ball joint of the hip being moved out of place while in the womb. Even during the early stages of development, the ball and the socket rely on each other in order to form correctly. During the final trimester, the womb may become so cramped that the ball joint shifts from the socket, causing dysplasia. (American Academy of Orthopaedic Surgeons)
The signs and symptoms of hip dysplasia vary based on a person's age. Infants and toddlers with hip dysplasia may have limited flexibility in one hip, have a limp or abnormal gait, or even have a visibly shorter leg. If not caught early, undiagnosed cases may cause pain or a sensation of instability near the groin, most often related to a labral tear in the hip or even osteoarthritis. (Mayo Clinic)
Genetics are the main risk factor for those with hip dysplasia. Those who are firstborn, female, born in breech position, or have a family history of dysplasia are more likely to be diagnosed with the condition than others.
(American Academy of Orthopaedic Surgeons)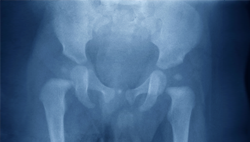 Diagnosis
Hip dysplasia can usually be diagnosed through a simple physical exam. Besides noting any visible cues, the doctor will observe any unusual sounds or tension in the hip while it is shifted into different positions. Imaging tests, such as ultrasounds and x-rays may also be ordered. (American Academy of Orthopaedic Surgeons)
Treatment
When caught early in infancy, hip dysplasia can be remedied by wearing a soft brace, like a Pavlik harness, that will keep the ball portion of the joint in place while it forms to the shape of the socket. If dysplasia is diagnosed in a baby older than 6 months, a body cast may be required to hold the bones in place. (Mayo Clinic)
Surgical Treatment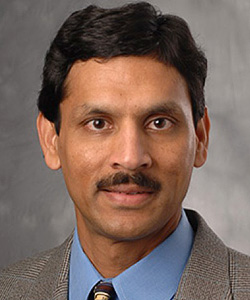 In rare cases, surgery may be necessary to alleviate the symptoms of hip dysplasia. Our pediatric specialist Dr. Prasad Gourineni is an expert in hip preservation and arthroscopic hip procedures. Having completed residencies in India and Northwestern University, along with fellowships in Texas and Switzerland, Dr. Gourineni has spent decades researching and perfecting his practice.
At MidAmerica Orthopaedics, we are strong proponents of physical therapy and rehabilitation. We believe that a well-monitored recovery process is crucial to achieving the best results. After surgery, your doctor may recommend working with one of our seasoned physical therapists to learn a variety of exercises and stretches in build strength in the hip.
To learn more about MidAmerica Orthopaedics services and treatment programs, please visit our website.
To schedule an appointment with MidAmerica Orthopaedics' Neurological Surgeon, Dr. Prasad Gourineni, call (708) 237-7200.