Prasad Gourineni, MD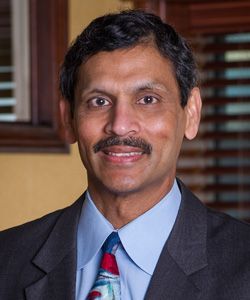 Pediatric Orthopaedic Specialist
Dr. Gourineni completed orthopaedic residencies in India and at Northwestern University in Chicago and a fellowship at Texas Scottish Rite Hospital in Dallas. Dr. Gourineni developed a deep interest in hip preservation and underwent informal training with several experts including a short visiting fellowship with Professor Reinhold Ganz in Bern, Switzerland and Marc Phillippon in Vail, Colorado. Dr. Gourineni acquired a lot of experience with open surgical dislocation and hip osteotomies before performing several of these procedures using arthroscopic techniques.
Pediatric & Young Adult Orthopaedics
Our group focuses on orthopaedic problems of children and young adults. We have the most experience in open and arthroscopic hip preservation procedures, and also specialize in sports medicine, trauma, and scoliosis along with general pediatric orthopaedics. Dr. Gourineni has also developed a variation of the Ponseti method for Pediatric Clubfoot that avoids Achilles tenotomy.
Meet Dr. Gourineni
Additional Information
Board Certification / Education
American Board of Orthopaedic Surgery (Recertified in July 2010)
Medical School - Andhra Medical College, India
Residency in Orthopaedic Surgery - Mangalore University, India 1989; Northwestern University, Chicago 1997
Fellowship in Pediatric Orthopaedics & Scoliosis - Texas Scottish Rite Hospital, Dallas 1998
Professional Affiliations
Advocate Hope Children's Hospital | Oak Lawn
Children's Memorial Medical Center | Chicago
Good Samaritan Hospital | Downers Grove
Hinsdale Hospital | Hinsdale
University of Illinois | Chicago
Special Interests
ACL Reconstruction
Hip Arthroscopy
Hip Preservation
Limb Deformities
Limb Length Discrepancy
Pelvic Osteotomies
Sports Medicine
Society Memberships
American Academy of Orthopaedic Surgeons
Pediatric Orthopaedic Society of North America
Orthopaedic Trauma Association
Pediatric Orthopaedic Society of India
Arthroscopy Association of North America
Teaching Experience
Faculty in the Department of Orthopaedics - University of Illinois
Orthopaedic Resident Education at University of Illinois - Ann & Robert H. Lurie Childrens' Hospital, Advocate Christ Hospital
Orthopaedic Board Review - Osler Institute
Scientific Activities
Founder of the Hip Preservation Society. Hip Preservation information and research at www.hippreservation.com