Treat Scoliosis at MidAmerica's Palos Hills & Mokena Locations
Symptoms, Causes and Treatment
Scoliosis is an abnormal curvature of the spine that typically forms just prior to puberty. While most cases of scoliosis are so mild they do not necessitate treatment, there are cases of scoliosis that have been linked to conditions such as muscular dystrophy and cerebral palsy. If left untreated, scoliosis may also result in heart and lung problems. Luckily, this condition is treatable at MidAmerica's Palos Hills and Mokena clinics.
Signs, Symptoms & Causes
Signs you or a loved one may be suffering from scoliosis include noticeably uneven shoulder or hip height or one shoulder or hip being more prominent than the other. Additionally, the waist may be slightly higher on one side.
Symptoms of scoliosis often begin to appear during the final growth spurt before puberty. Most people living with scoliosis do not need treatment, though it is possible for conditions to worsen enough to create complications ranging from back problems to lung and heart damage. Issues such as these are a result of the rib cage sitting unevenly in the torso.
While many in the medical field are still trying to confirm that certain hereditary factors lead to the most common forms of scoliosis, we do know that less common types of scoliosis often form due to spinal injuries or infections, birth defects, or neuromuscular conditions such as muscular dystrophy or cerebral palsy.
Common Misconceptions
Despite how common scoliosis is, there are still some misconceptions surrounding the condition.
Myth #1: Scoliosis is caused by back strain and a lack of proper nutrients
Bad posture and carrying heavy items without proper weight training are not beneficial for the back, however, they do not cause scoliosis.
Myth #2: A diagnosis of scoliosis means back braces and surgery
Most cases of scoliosis are mild and do not require treatment further than check ups two to three times a year. We take factors like the patient's age and sex, as well as severity, pattern, and location of the curve into consideration when recommending treatment.
Diagnosis
Scoliosis is typically diagnosed through an analysis of one's medical history, x-rays, and a physical exam. The physical exam generally requires the individual to lean forward with their arms dangling in order to note if one side of the rib cage protrudes more than the other.
In addition, an MRI or neurological exam can be ordered if the doctor suspects there may be an underlying condition contributing to scoliosis.
Treatment
Most people who have been diagnosed with scoliosis don't require treatment further than periodic check ups to ensure that the curvature of their spine hasn't worsened. Physical therapy is a great form of treatment for those seeking preventative cases of acute or chronic pain. On the rare occasion of severe scoliosis, we offer treatment methods including back braces, muscle stimulation, and surgery.
At MidAmerica Orthopaedics Palos Hills and Mokena clinics, Pediatric Orthopaedic Specialist Dr. Prasad Gourineni specializes in the treatment of scoliosis.
Post-Surgery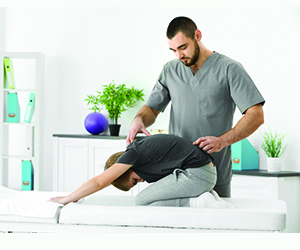 At MidAmerica Orthopaedics Palos Hills and Mokena clinics, physical therapy and rehabilitation is a significant part of the postoperative recovery process. Our knowledgeable physical therapists teach patients proper lifting and bending techniques and guide them through recommended exercises and stretches to avoid repeated injury. We find that by abiding by our physicians and therapists recommendations, patients are on the road to recovery in no time.
To learn more about MidAmerica's Palos Hills and Mokena clinics and the different treatment options available to you, visit our website. We also serve Chicago, Oak Lawn and Orland Park.
To schedule an appointment with MidAmerica Orthopaedics Pediatric Specialist Dr. Prasad Gourineni, call (708) 237-7200.