Svetlana Zats, DPM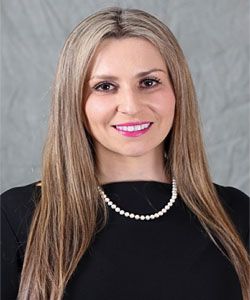 Foot and Ankle Specialist
I love what I do and I am passionate about my patient care! I provide comprehensive medical and surgical care for a wide variety of foot and ankle conditions, including common to complex disorders and injuries that affect people of all ages.
I specialize in surgical and non-surgical treatments of foot and ankle conditions, including heel pain, sports medicine, trauma, ankle reconstruction, diabetes, and dermatological conditions.
My path to becoming a board certified foot and ankle surgeon began when I earned my bachelor's degree in Biology from Ohio Dominican University. I was then accepted into Scholl College of Podiatric Medicine, where I completed my Doctoral training in podiatry. Following a 3-year surgical residency at Rush University Medical Center, I passed the rigorous written and oral examination to become board certified.
My passion is to play an integral role in diagnosing early stages of diseases that exhibit warning signs in the lower extremities, such as diabetes, arthritis, and cardiovascular disease. I'm also passionate about managing foot conditions which may pose an ongoing threat to a patient's overall health.
With 10 years of experience as a foot and ankle surgeon, I look forward to providing care at MidAmerica Orthopaedics.
Additional Information
Board Certification / Education
Board Certified -American Board of Foot and Ankle Surgery
Foot and Ankle Fellowship -Germany ( Germany Society of the Foot surgeons GFGC)
Foot and Ankle surgical residency- Rush University Medical Center
Rosalin Franklin University , Scholl College of Podiatric Medicine-Doctor of Podiatric medicine
Ohio Dominican University-B.S. in Biology
Professional Affiliations
American College of Foot and Ankle Surgeons
American Podiatric Medical Association
Illinois Podiatric Medical Association
Special Interests
Conservative Treatment with Platelet Rich Plasma Injections
Plantar Fasciitis
Sports Medicine Injuries
Surgery of the Foot and Ankle
Custom Orthotics/Biomechanics
Practice Emphasis
Bunion Deformity Correction
Sports Medicine
Tendon and Ligament Injury
Custom Orthotics
Tarsal Tunnel Release
Arthroplasty of Toes
Arthritis of the Foot and Ankle
Foot and Ankle Trauma/Fractures