Common Basketball Foot and Ankle Injuries
During a basketball game all eyes are on the ball, and whose hands are dribbling, passing or shooting it. It's safe to say that not many pay attention to a player's feet, until something bad happens. With two recent incidents of faulty Nike footwear taking down college basketball players at Duke and Indiana University, fans and players alike will be on the lookout for more foot and ankle related issues and injuries.
Like many injuries sustained in sports, foot and ankle injuries often occur from a lack of sports medicine knowledge or guidance, and result from faulty coaching, technique or equipment. While at other times injuries simply occur by accident. Whether the injury occurs over time or in the blink of an eye, a bad foot or ankle injury can seriously slow down or completely end an athletes career. These injuries are especially common for younger high school and college athletes. Below are some of the most common food and ankle injuries that basketball players are susceptible too, and how to treat these injuries should you experience one yourself.
Foot Injuries
Plantar fasciitis: Plantar fasciitis is an overuse injury (an injury that occurs over time from repetitive motions) that causes inflammation to the plantar fascia, a band of tissue connecting the toes to the heel. This inflammation leads to foot and heel pain. Typically plantar fasciitis can be treated through a change to proper technique, stretching, icing and getting proper equipment (such as basketball shoes fitted with proper arch support).
Jones fracture: Is a fracture that occurs within a small section of the fifth metatarsal of the foot that receives less blood than other parts of the foot making it more susceptible to injury. Fractures can either be stress fractures, formed overtime, or can result from acute injury. Typically treated with the PRICE method (protect, rest, ice, compress, elevate), and casts, boots, or crutches depending on the severity of the fracture.
Ankle Injuries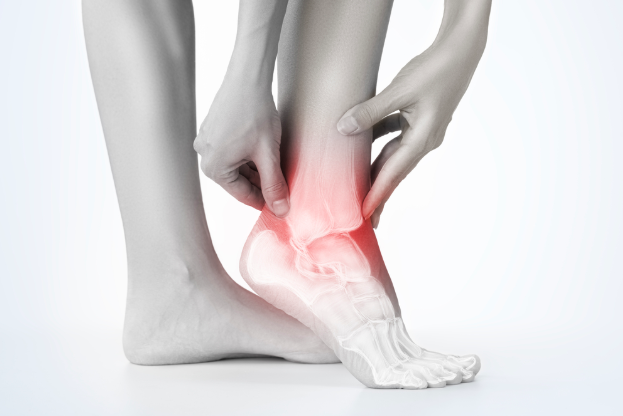 Sprains: Ankle sprains are extremely common across all sports and skill levels. A sprain is an injury to the ligaments of the ankle which stabilize the bones of the ankle joint. Sprains are typically caused by overextension or a loss of balance when moving quickly from side to side. Treatment and recovery time from sprains depends on the severity of the sprain, whether it is stretched, partially or fully torn.
Avulsion fracture: A fracture injury that can accompany an ankle sprain. An avulsion fracture occurs when a small piece of bone is pulled off the main bone by a ligament or tendon, often occurring when an ankle is rolled. Treatment is typically handled similarly to that of a jones fracture and usually in conjunction with treatment for an ankle sprain.
Achilles tendonitis: The achilles tendon connects the bone of the heel to the calf muscles. Injury to the achilles tendon often occurs from repeated movements like jumping and running. Tendonitis refers to a condition when the tendon becomes inflamed, leading to pain and stiffness. Tendonitis is typically treated with the PRICE method, stretching and strengthening activities. In more severe cases the achilles tendon can rupture, typically a season ending injury. A ruptured achilles tendon typically will require surgery to return to serious playing.
To prevent injury while playing basketball it's important to have the right team in your court. Having a great coach, physical therapist and orthopaedic specialist working with you will help prevent injury and get you back in the game as soon as possible if injury occurs. If you are experiencing ongoing swelling or pain from a basketball related foot or ankle injury it's time to see an orthopaedic foot and ankle specialist.
On the MidAmerica Orthopaedics team are foot and ankle specialists Dr. Zats, Dr. Meisel and Dr. Brisbin. Svetlana Zats, DPM, is one of the highly regarded physicians on the MidAmerica Orthopaedics Foot and Ankle Clinic team. Dr. Zats specializes in both surgical and non-surgical treatment of foot and ankle injuries including tendon repair. With 10 years experience as a foot and ankle specialist Dr. Zats will get you back in the game in no time.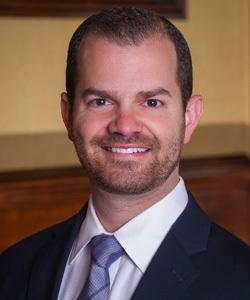 For foot and ankle injuries that require surgical treatment, Adam F. Meisel, MD, is a highly-trained arthroscopy specialist on our sports medicine team. He strives to help his patients regain and maintain their active lifestyles—from high level basketball athletes, to the recreational basketball player.
Also on our sports medicine team is Beverlee A. Brisbin, MD. Dr. Brisbin goal is to improve quality of life and return her patients back to their sport as soon as possible through non-surgical treatments.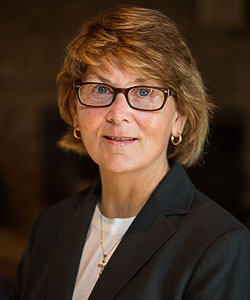 As the team sports medicine doctor to USA women's Soccer Team and many area high schools, she's well experience in treating athlete's' foot and ankle injuries.
To learn more about MidAmerica Orthopaedics, our Foot and Ankle Clinic and Sports Medicine Clinic, and the different treatment options available to you, visit our website, or give us a call at (708) 237-7200. You can also request an appointment online. MidAmerica Orthopaedics serves various areas such as Chicago, Tinley Park, Palos Hills, Mokena, Evergreen Park, New Lenox, Oak Lawn, Orland Park and more.