Treating Common High School Sports Injuries at MidAmerica's Palos Hills, Mokena, and Chicago Locations
Frequency of Sports Injuries
High school athletics bring teenagers together, provide structure to and foster a sense of community. However, they also bring the risk of injury. The reports of high school sports injuries from At Your Own Risk show some astounding results:
90% of student athletes report sustaining an injury
54% continued to play while injured
12% of student athletes sustained concussions
Health Research Funding also reports the scary number of injuries with high school athletes each year:
2 million student athlete injuries
500,000 doctor visits
30,000 hospital stays
These statistics show an overwhelming frequency of high school athletic injuries. With 9/10 athletes sustaining injuries, they are almost guaranteed to get hurt at some point while playing. On top of that, the half that continue to play while injured are certainly worsening their condition.
The good news is, severity and quantity of injuries can be prevented. Exploring prevention and treatment for common sports injuries can help detect any injury early on.
Common Sports Injuries
Sprained Ankle
The bones of the ankle are held together by several ligaments: the anterior, deltoid, and posterior (Sports Health). A sprained ankle occurs when these ligaments are strained or torn, which can result from rolling the ankle or landing on it awkwardly after stepping, jumping or twisting. This injury occurs frequently in basketball, soccer, trail running, and tennis — all common high school sports.
Symptoms of a sprained ankle include:
Pain
Swelling
Bruising
Limited range of motion
'Popping' feeling or sound
Treatment for a sprained ankle can include self-care, medication, physical therapy, or, in severe cases, surgery. Self-care for a sprained ankle typically involves a combination of elevation, compression, and rest. A doctor may also prescribe medication for pain.
Physical therapy may sometimes be needed to restore the ankle's full range of movement, build up strength, and ensure flexibility. If a ligament will not heal on its own, a doctor may recommend surgery. (OrthoInfo)
Shin Splints
'Shin splints' — also known as medial tibial stress syndrome — refers to pain that occurs along the tibia (OrthoInfo). Shin splints occur in athletes who play sports that involve a lot of running, like cross country, track, or soccer. They also affect dancers and tennis players.
Shin splints result from small muscle tears, muscle inflammation, or a combination of these. They can occur after:
Running downhill or on uneven ground
Increasing activity
Inadequate stretching
Putting more weight on one leg than the other
Improper running form
Weak muscles in areas that support the legs (buttocks, hips)
Inadequate training
Inappropriate workout gear (OrthoInfo)
The most common treatment for shin splints is to cease activity, since shin splints are often caused by overactivity. Once pain stops, doctors advise to slowly begin activity and practice better form when running. While an athlete rests, shin splints can be treated with self-care methods like ice and simple stretching. (Runners World)
ACL Tear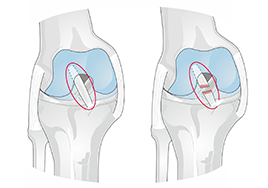 Anterior Cruciate Ligament (ACL) tears are some of the most common sports related injuries. The bones of the knee are connected by several ligaments — bands of soft, connective tissue — that help the knee to move and bend. In sports with repetitive running and jumping, like soccer, basketball and tennis, ligaments can tear.
The Cruciate ligaments control forward and backward motion of the knee. The Anterior Cruciate Ligament (ACL) is at the front of the knee, and is most vulnerable to tearing.
Symptoms of a torn ACL include:
Pain and swelling in the knee
Limited range of motion
Inability to walk or put weight on knee
Tenderness
Nonsurgical treatments for ACL tears include wearing a brace and physical therapy. A brace protects the knee until the ligament heals. Physical therapy can restore strength and balance, and guide the knee into moving in a way that prevents future ACL injury. In some severe cases, a torn ACL may require surgery. If an ACL cannot be stitched together or repaired, it may need to be reconstructed, or replaced with a prosthetic. (Mayo Clinic)
Concussion
A concussion is a traumatic brain injury often caused by a blow to the head. Concussions occur most commonly in high school football, basketball and soccer, where contact between players happens frequently. Rates of injury for youth football players are as high as 38%, with USA Football reporting that 4% of youth football players sustain concussions (Orthopedic Journal of Sports Medicine).
The symptoms of a concussion include:
Confusion
Headache
Ringing in the ears
Loss of balance
Nausea and/or vomiting
Dizziness
Trouble with memory and concentration
A doctor should be seen after a person sustains any blow to the head, but it is particularly important if the above listed symptoms are present. A doctor will test physical factors, like vision, hearing, balance and coordination, as well as cognitive factors like memory and concentration. A doctor may also use brain imaging tests to diagnose a concussion.
The main treatment for a concussion is rest. The results of a single concussion are usually temporary. However, after a first concussion, the person's risk for a second is greatly increased. Repeated concussions over long periods of time severely damage the brain. For this reason, it's very important to rest after a concussion and not engage in athletic activity until fully healed, and only with proper equipment. (Mayo Clinic)
Preventing Sports Injuries
The vast majority of sports injuries are preventable. Sports are fun, community-building activities that help kids to engage. With simple preventative safety measures, high school sports can be much safer.
Stretching
Stretching increases muscle strength and flexibility. It warms your muscles up for activity and ensures that no sudden movements will lead to injury. There are many great stretches for youth athletes online. It's also important to warm up before a sporting event to increase the heart rate and prepare the body for movement.
Proper Equipment
Proper equipment is essential for safety in youth sports. Most of the conversation about this revolves around football and proper football gear. This makes sense, as football players are three times more likely to sustain an injury than athletes in other sports (HRF). Proper body padding and, most importantly, helmets to prevent concussions, are essential to keeping football players safe. Proper equipment also means appropriate shoes that are in good condition. Running shoes with thin, worn-down soles and improper support can lead to shin splints for cross country athletes and basketball players.
Reasonable Activity
A staggering 54% of student athletes continue to play while injured, which can make injuries worse and may lead temporary conditions to become chronic. Many sports injuries occur and worsen because students play while injured; or play too long, too far or too hard before their bodies are ready.
A large part of the responsibility for preventing overactivity falls on the adults in students' lives. Coaches and parents must prioritize health over school spirit and competition, and enforce healthy breaks in activity. Overactivity is one of the greatest risk factors for youth sports injuries, and moderation is one of the best ways to prevent getting hurt.
Sports Injury Treatment at MidAmerica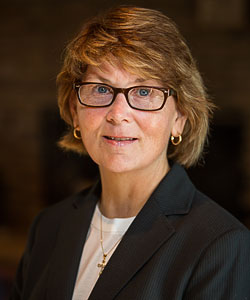 Dr. Beverlee A. Brisbin
MidAmerica physician, Beverlee A. Brisbin is an expert in sports medicine. She is the official team sports medicine doctor to the USA Women's soccer team. She also works in many local high schools, and is very familiar with youth sports injuries. Dr. Brisbin treats sprains, breaks and dislocations all over the body.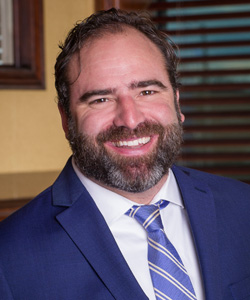 Dr. Chris Chapman
Another MidAmerica physician, Dr. Chris Chapman, is a specialist in pediatric sports medicine. He makes it a point to explore all possible nonsurgical treatment options first and foremost. Dr. Chapman also has extensive experience working with families and student athletes in particular.
Dr. Adam F. Meisel
Dr. Adam F. Meisel , sports medicine and arthroscopy specialist at MidAmerica Orthopaedics, specializes in sports medicine and tendon and ligament injuries. Dr. Meisel's goal is to help his patients return to and maintain their active lifestyles through both operative and non operative treatments.
For more information about MidAmerica's sports medicine offerings or to schedule an appointment, call (708) 237-7200. MidAmerica Orthopaedics serves various areas such as Chicago, Palos Hills, Mokena, New Lenox, Oak Lawn, Burbank and more.