Treatable at MidAmerica's Palos Hills and Mokena Locations
Do you suffer from numbness, tingling or burning in the thumb, index or ring finger? Do you experience weakness and clumsiness in the hand, making it difficult to perform everyday tasks?
Then you may be living with carpal tunnel syndrome (CTS). Fortunately, the doctors at MidAmerica Orthopaedics have been treating this condition for years and offer care at our Mokena, Palos Hills, and Chicago locations.
For specialized care in treating CTS, turn to MidAmerica's Hand and Upper Extremity Surgeons, Dr. Gary A. Kronen and Dr. Anton J. Fakhouri.
Dr. Kronen has been recognized by "The Leading Physicians of the World" and America's Top Surgeons as being one of the premier hand surgeons in the United States. His expertise lies in treating conditions of the hand and upper extremities including carpal tunnel syndrome, trigger finger, arthritis, tendonitis as well as traumatic injuries.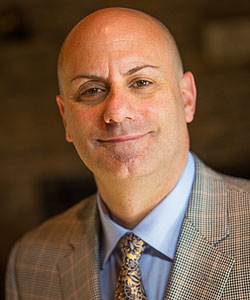 Dr. Fakhouri is a board-certified orthopaedic surgeon, an American College of Surgeons fellow and is AMA 6th Edition Impairment Rating certified. He specializes in treating trauma and fractures of the upper extremity, bone and soft tissue reconstruction and microsurgical limb reconstruction with a special interest in the treatment of carpal tunnel syndrome, tendonitis, arthroplasty of the fingers and arthritis of the hand, wrist and elbow.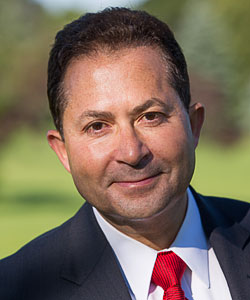 What is Carpal Tunnel Syndrome: Symptoms and Causes
Carpal tunnel syndrome refers to a compression of the median nerve as it passes through the carpal tunnel, a bone at the base of the wrist.
As pressure builds within the carpal tunnel, the median nerve no longer conducts electricity properly, which leads to the symptoms described above. As the condition progresses, it may limit the ability to work, play sports, or perform daily activities. This condition affects nearly 3 million Americans every year and is treatable at MidAmerica's Palos Hills and Mokena clinics.
Symptoms of CTS can occur in the fingers, hand or wrist. Most commonly, the thumb, index, middle and ring finger are involved, but any combination of thumb and fingers can occur. CTS can affect one hand or both, and women are generally more prone to this condition than men. Symptoms may initially occur at night or after strenuous activity and can include:
Tingling
Numbness
Weakness
Pain
Actions and diseases that can lead to developing carpal tunnel syndrome include:
Wrist injuries
Diabetes
Rheumatoid Arthritis
Pregnancy
Obesity
Hypothyroidism
Repetitive hand and wrist motions
An abnormally narrow carpal tunnel due to genes/gender
Examination at MidAmerica
The Hand to Shoulder Clinic at MidAmerica's Palos Hills and Mokena locations is devoted exclusively to treating patients with injuries and conditions of the hand and upper extremity. If you suspect you are suffering from CTS, one of our fellowship-trained physicians will be happy to assist you in making an accurate diagnosis. Your physician will:
Press down or tap along the median nerve to determine if it causes any numbness or tingling in the fingers.
Bend and hold your wrists in a flexed position to test for numbness or tingling in the hands.
Test the sensitivity of your fingertips.
Check for weakness in the muscles around the base of the thumb.
Look for atrophied muscles around the base of the thumb.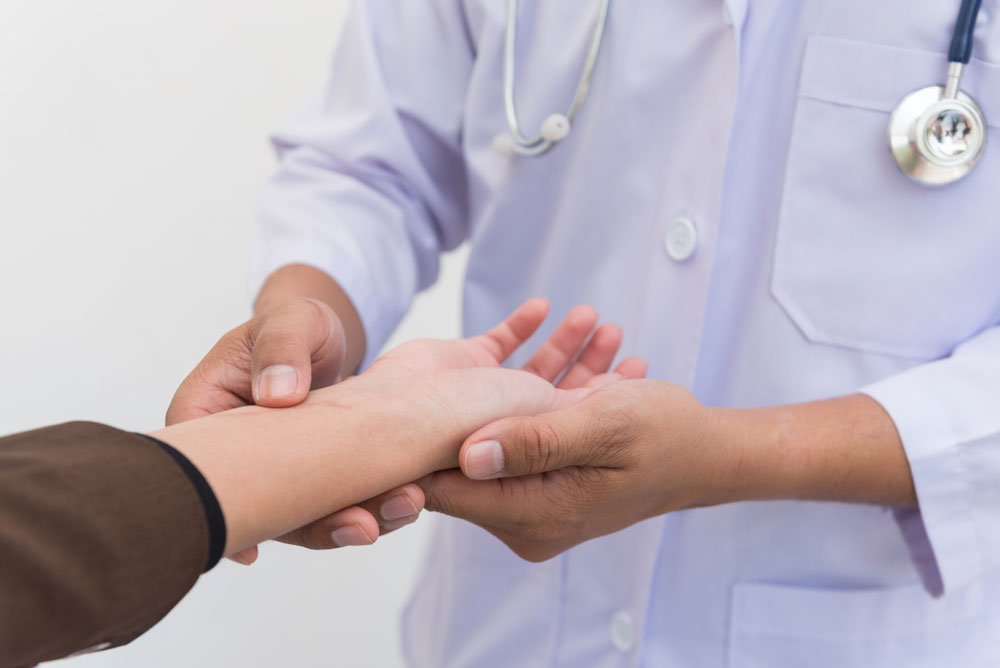 Treatment at MidAmerica's Hand to Shoulder Clinic
MidAmerica's fellowship-trained physicians are recognized experts throughout Chicagoland and use the most current non-operative and operative techniques with the ultimate goal of returning patients to work, sports and daily activities in the timeliest manner possible. Non-surgical treatments for carpal tunnel syndrome include:
Rest
Avoid activities that involve hand or wrist movements
Ice and wrist splints
Anti-inflammatory drugs
Corticosteroid injections
If these treatments are unsuccessful, then surgery is an option. Carpal tunnel release surgery, available at MidAmerica's Palos Hills and Mokena clinics, is performed as either an open procedure with an incision in the palm or less commonly as an endoscopic procedure. The goal of the procedure is to cut the transverse carpal ligament to relieve pressure on the median nerve.
Carpal tunnel surgery can be performed under local anesthesia, sedation or general anesthesia depending on patient preferences. Immediate use of the hand after surgery is encouraged to speed recovery. Hand Therapy sessions alongside MidAmerica's on-site certified physical therapists start 7-10 days after surgery.
Click to view video on Carpal Tunnel Release Surgery
Why MidAmerica?
At MidAmerica, we aim to provide the highest quality care marked by courtesy, respect and integrity. To make an appointment at The Hand to Shoulder Clinic, or to learn more about MidAmerica's Palos Hills and Mokena clinics and the different treatment options available to you, call (708) 237-7200. Most insurance plans are accepted.
If you would like to learn more about carpal tunnel syndrome, or other orthopaedic conditions, be sure to visit our blog.