The Physical Benefits of Meditation
We live in a stressful, chaotic world. It's no surprise to most that this high pace, high stress way of life takes a toll on both our mental and physical health. Physical symptoms of stress may include digestive conditions such as IBS, high blood pressure, sleep issues, headaches, and painful chronic inflammation. Physical symptoms of stress like pain, lethargy, and a general "icky" feeling can often exacerbate the mental symptoms of stress like depression and anxiety.
Finding relief from the stress of juggling work, family, and our health can seem a daunting feat. There's a shockingly simple solution you may not have considered: meditation. Meditation may not be the first thing that comes to mind to treat physical health symptoms but studies have shown that this ancient practice can be a powerful tool in your journey to a healthy and peaceful mind and body.
The Strength of Meditation
So, what exactly is meditation? Meditation is a path to discovering the present moment. The beauty of meditation is that it is inexpensive and can be practiced by anyone. Meditation is a tool for training the mind. We use tools to train our bodies, like bikes, workout techniques, or weights, in the same way, we can use meditation to strengthen our minds and in turn our bodies. Different types of meditation include:
Mindfulness: This style of meditation seeks to increase a mindful awareness of the present moment. The aim of mindfulness is to acknowledge, recognize and accept the present moment without judgement. This practice is often grounded by a focus on breathing.
Movement: Often associated with yoga or tai chi, the focal point of this meditation technique is the movement of the body with intent.
Visualization: With this technique the object of focus is an image that invokes a certain emotional response.
Research has shown that consistent meditation practice can aid physical healing over time. Some of those physical benefits include:
Reduced inflammatory response
Improved sleep
Pain management
Lower blood pressure
Where to Begin
While there are many unique paths in meditation, many practices employ the following basic elements.
1. Guided: If you're new to the practice it's always great to start with a guide. There's a wide selection of visual and audio meditation guides online. The most popular form has been with smartphone mindful meditation apps. These can easily guide you through different types of meditation with visuals and/or audio and most have the ability to track your progress.
2. Quiet: Find a quiet place free of distractions to help you concentrate on your practice. This helps you find calmness and allows you to explore your thoughts.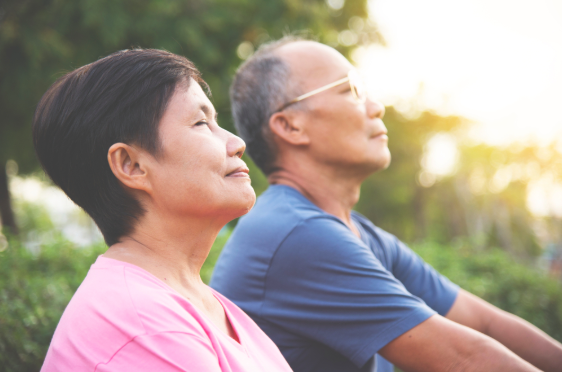 3. Comfort: It's a lot easier to focus on the moment when you are sitting comfortably, but not too comfortable where you fall asleep. Find a comfortable spot and sit in an upright position.
4. Focus: Most meditation techniques revolve around a certain focal point. This may be your breath, movement, or an image. Finding this focus is key to quieting other thoughts and finding the feeling of stillness.
5. Breathing: Breathing is used as both a focal point and method to physically calm the body. Deep breathing sends a message to the brain that's it's time to slow down and rest.
Meditation can be done anywhere, anytime, and any way you wish. It's easier than ever to take expert meditation guidance with you. Research shows that carving out even just a few minutes from your day can make a difference.
Mindful Healing at MidAmerica Orthopaedics
Meditation and mindfulness techniques are considered in treatment and recovery plans at MidAmerica Orthopaedics. Practicing can help manage stress for both surgical and non surgical treatment. We're home to experts on the cutting edge of non-operative, and least invasive care for both pediatric and adult patients. These experts include Beverlee A. Brisbin, Dr. Meisel, and Chris Chapman.
To learn more about MidAmerica Orthopaedics and the different treatment options available to you, request an appointment online or call (708) 237-7200. MidAmerica Orthopaedics serves various areas such as Chicago, Tinley Park, Palos Hills, Mokena, Evergreen Park, New Lenox, Oak Lawn, Orland Park, and more.