Common Hockey-Related Sports Injuries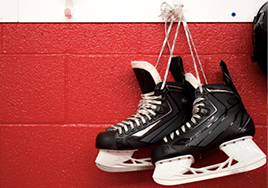 Hockey has increasingly become a popular sport in the U.S. over the past few years. The speed and energy of the game raises the stakes and keeps the crowd on the edge of their seats. While hockey is exhilarating to watch or play, it is one of the more dangerous contact sports. For players of all skill levels, whether a student athlete, professional, or backyard hobbyist, hockey carries a higher risk of injury than many other sports. This is partly due to the looser rules involving contact, and the fact that the sport is played on slick ice. Before donning your skates this winter make sure you are prepared for any potential sports injuries. From prevention to treatment, read below to learn what to do if you experience an injury this hockey season.
Since hockey has a high level of contact, injuries can occur to just about any part of the musculoskeletal system. Common hockey injuries include: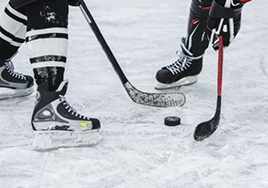 Shoulder dislocation
Whiplash
ACL and PCL ligament injuries
Meniscus tears
Achilles tendonitis
Chronic lower back pain
Herniated disk
Various sprains, strains, breaks and fractures of upper and lower extremity bones, muscles, ligaments and tendons
Prevention
Before you start your hockey season be sure to take the following steps to help prevent a hockey-related sports injury:
Training: The best place to start when it comes to prevention in sports medicine is with the proper training and technique for the sport. For hockey this includes learning how to skate, the right way to make and take contact, and staying in shape to reduce the risk of injury.
Gear: Be sure to bundle up! Hockey players should always wear proper protective equipment including pads, guards, helmets, and properly fitting skates.
Sportsmanship: One of the best ways to prevent injuries on the ice is to simply play by the rules and exhibit good sportsmanship.
Treatment
Hockey is a contact sport, and injury is bound to occur at some point or another in a player's career. How a player responds to an injury will help determine the longevity and course of their hockey careers moving forward. If you experience a musculoskeletal injury while playing hockey follow these steps:
Remove yourself from the game. If you are in serious pain, stop playing and seek medical attention immediately.
Implement the PRICE method (protect, rest, ice, compression, and elevation).
If your hockey-related sports injury is too severe for at home treatments, it's time to see a specialist.
If your injury is serious or life threatening, immediately head to the ER, if you do not require emergency care visit an Orthopaedic Immediate Care clinic for timely care and quicker access to orthopaedic specialists.
Determine with your orthopaedic specialist what course of treatment, whether surgical or non-surgical, is best for you.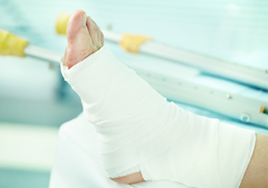 At MidAmerica Orthopaedics Orthopaedic Immediate Care clinic our highly trained specialists will be available to you for timely and accurate diagnosis and treatment. Our team of specialists, with expertise of the head, neck, spine, upper and lower extremities, will get you on the road to recovery and back on the ice as soon as possible.
To learn more about MidAmerica Orthopaedics, our Orthopaedic Immediate Care clinic and the different treatment options available to you, visit our website. For more information on our Immediate Care services please give us a call at (708) 237-7200.