Common Baseball Injuries Treatable at MidAmerica's Palos Hills & Mokena Locations Part Three: Thower's Elbow
Thus far, we've discussed Rotator Cuff Tears and knee injuries, but the knee and elbow aren't the only joints vulnerable to injury for baseball players. The elbow is also commonly subject to distress, especially when it comes to throwing athletes, such as pitchers and infielders. Elbow injuries typically result from repeated, high-stress motion, which leads to overuse of the joint and can be very painful. Luckily, this condition is treatable at MidAmerica's Sports Medicine Clinic located in Palos Hills and Mokena.
The Elbow Joint
Understanding the anatomy of the elbow is helpful to understanding why baseball players are prone to such injuries. Similar to the knee, multiple bones, ligaments, nerves, tendons and muscles come together to form a hinge and pivot joint--hinge because it bends and straightens the arm, and pivot because it lets the lower arm rotate and twist.
The elbow is vital in stabilizing the arm while throwing. The inner elbow is the most vulnerable to injury as it endures considerable force during any throwing motion. There are five potential elbow injuries that throwing athletes are subject to along with a treatment for each:
(American Academy of Orthopedic Surgeons)
Flexor Tendinitis
Flexors are tendons that attach the humerus to the inner elbow, and Flexor Tendinitis is caused when these tendons become irritated and inflamed. Throwers will experience pain on the inside of the elbow while throwing, and - in severe cases - while the arm is resting. (American Academy of Orthopaedic Surgeons)
Treatment: In the case of tendinitis, treatment starts with R.I.C.E (Rest, Ice, Compression, Elevation). You doctor may also prescribe nonsteroidal anti-inflammatory medicine (NSAID). If the symptoms do not get better within a couple weeks, Physiotherapy and exercise, which aim to strengthen the tendon and surrounding muscles; shock wave therapy, which passes high-energy sound waves through the skin; or, Corticosteroid injections, which are simple steroid injections, are all potential treatment options. A list of pros and cons of each treatment can be found here.
Ulnar Collateral Ligament (UCL) Injury
UCL trauma ranges from less severe inflammation and stress to more severe damage, such as a complete tear. Again, throwers will experience pain on the inner elbow and, potentially, a decreased throwing velocity. (American Academy of Orthopaedic Surgeons)
Treatment: UCL injuries typically involve 3-6 months of conservative therapy. Unfortunately, athletes will have a very gradual return to activity. Rest is key to the rehabilitation. If symptoms are severe, non-steroidal anti-inflammatory drugs (NSAIDS) and or surgery may be the best solution. (Medscape)
Valgus Extension Overload (VEO)
When throwing, the olecranon and humerus bones twist and rub together, deteriorating the cartilage overtime. When the protective cartilage wears away, bone overgrowth (i.e. bone spurs or osteophytes) may develop. VEO causes swelling and pain at the site where the bones come into contact. (American Academy of Orthopaedic Surgeons)
Treatment: For VEO, nonoperative treatment may include taking NSAIDS to prevent inflammation, changing position of the throwing arm to eliminate repetitive stress or physical therapy to strengthen and stretch the elbow. In the case of a bone spur, surgery is highly recommended and is typically an Arthroscopy.
Olecranon Stress Fracture
Stress fractures in the elbow occur when the surrounding muscles lose their ability to absorb shock. Stress from repeated throwing thus transfers to the bone, causing tiny cracks to develop. Stress fractures most commonly occur in the olecranon. (American Academy of Orthopaedic Surgeons).
Treatment: While you may take NSAIDS or ice for immediate pain treatment, if you experience an Olecranon Stress Fracture you will need to go to an emergency room immediately so that a doctor can apply a cast. Surgery may be the next step, depending on the specific fracture case.
Ulnar Neuritis
This injury is caused when the ulnar nerve, the nerve stretching around the end of the humerus, is inflamed. The ulnar nerve is commonly known as the "funny bone". It stretches when the elbow bends, so throwers typically exacerbate this function overtime. The injury can cause numbness or weakness in the arm and can be diagnosed by bending the elbow to see the nerve out of place. (Summit Orthopedics)
Treatment: Physical therapy that includes resting the elbow and adjusting activity to avoid repetitive stress will be the first step in treating Ulnar Neuritis. A physician may splint your arm at night for protection while you sleep. They may also recommend specific nerve exercises.
In general, since elbow injuries for throwing athletes typically result from overuse, the best thing to do is rest. If pain continues, it's important to consult a physician to determine whether the injury can be fixed through surgical or non-surgical means.
Recommended Physicians
The MidAmerica Orthopaedics Sports Medicine clinic, located in Palos Hills and Mokena, offer an integrated approach to sports injuries by providing prevention, diagnosis, treatment and rehabilitation for athletes. Our expert physicians, Dr. Beverlee A. Brisbin and Dr. Adam F. Meisel work to make sure patients receive unsurpassed clinical expertise in the field of Sports Medicine.
Beverlee A. Brisbin, MD, FAAFP
Beverlee A. Brisbin, MD, FAAFP specializes in sports medicine and non-operative orthopaedics. Brisbin believes in improving quality of life so patients can get back to doing the things they love. As the USA's Women's Soccer Team Physician and the lead physician for a group of high school sports teams, she is highly experienced in sports injuries.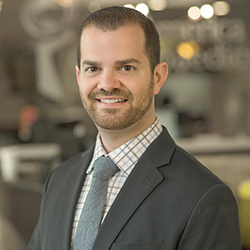 Adam F. Meisel, MD
Adam F. Meisel, MD is an orthopaedic surgeon with specialty training in sports medicine and arthroscopy. Meisel stays on the cutting edge of medicine by continuing active research, specifically in rotator cuff repairs. His goal is to help patients regain and maintain an active lifestyle, whether as athletes or weekend warriors.
To learn more about the MidAmerica Orthopaedics Sports Medicine Clinic or to schedule an appointment with one of our sports medicine physician specialists at our Palos Hills or Mokena locations, please call us at (708)-237-7200. To request an appointment at any of our three locations, please fill out this form. This will help us determine the right physician for you. We also proudly serve patients from Chicago, Oak Lawn, Orland Park and New Lenox.