Common Baseball Injuries Treatable at MidAmerica's Palos Hills & Mokena Locations Part Two: Knee Injuries
While baseball players often experience shoulder injuries, the knee is also a common potential pain point. Due to the complex bone, cartilage, ligament, and tendon structure, any movement—like running from base to base, twisting while your foot is planted or landing on a flexed knee sliding into home—can result in a serious knee injury requiring treatment at MidAmerica's Palos Hills or Mokena clinics.
Description
There is a wide range of potential knee injuries, all of which can most likely be treated with bracing and rehabilitation exercises:
Fracture - a broken bone in the knee. Patella break is the most common
Dislocation - a bone is completely or partially out of place
Sprain - one or more ligament is stretched or torn
Strain - also a stretch or tear but occurs in the muscles or tendon
Photo: (American Academy of Orthopedic Surgeons)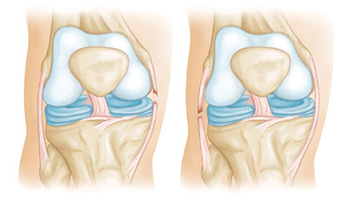 More serious knee injuries for baseball athletes include:
Photo: Complete tears of the MCL (left) and LCL (right). (American Academy of Orthopedic Surgeons)
Immediate Treatment
If you're experiencing a knee injury it's vital to implement the RICE method—Rest, Ice, Compression, Elevation—as soon as you can. Non-surgical treatments include:
Immobilization: A knee brace, crutches and/or a cast, depending on the injury, will help keep the knee in place. Avoid putting weight on it and be sure to ask a physician about the right care for your injury.
Physical therapy: Strengthening leg muscles that support the knee will restore the joint and help to prevent future. Use this general conditioning program to get started.
Anti-inflammatories: Non-steroidal drugs like ibuprofen or naproxen will reduce pain and swelling.
If you hear a popping noise, feel your knee give out, experience swelling, cannot move your knee or are limping, it may be due to an ACL or MCL tear. In this case, seek a a physician immediately.
Recommended Physicians
With a complex joint like your knee, seeing a physician may affect the future of your athletic career. If you suspect a knee injury, turn to MidAmerica's Palos Hills or Mokena clinic for expert treatment. Our physicians are recognized leaders in our community and each has undergone fellowship training in sports medicine.
Dr. Adam F. Meisel
Adam F. Meisel, MD of MidAmerica Orthopaedics in Palos HIlls and Mokena, IL is an orthopaedic surgeon with specialty training in sports medicine and arthroscopy. Meisel stays on the cutting edge of medicine by continuing active research, specifically in rotator cuff repairs. His goal is to help patients regain and maintain an active lifestyle, whether as athletes or weekend warriors.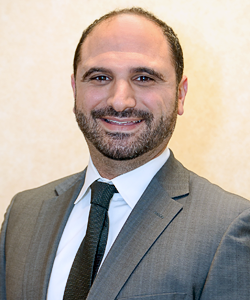 Dr. Sarkis M. Bedikian
Dr. Bedikian of MidAmerica Orthopaedics believes in doing all he can in the pursuit of returning his patients to a full, active lifestyle. Whether the issue is a worn hip or knee in need of replacement or revision, Dr. Bedikian strives to dramatically improve the quality of life for his patients. He views himself as a partner and counselor in helping his patients achieve their optimum health and sense of well-being.
To schedule an appointment with MidAmerica Orthopaedics' Dr. Adam F. Meisel or Dr. Bedikian call (708) 237-7200.
To learn more about MidAmerica's Palos Hills and Mokena clinics and the different treatment options available to you, visit our Sports Medicine Clinic. We are also welcome patients from Chicago, Oak Lawn, Orland Park and New Lenox.
Part three of our common baseball injury blog series will focus on what is commonly known as "Thrower's elbow". We'll outline the clinical definition along with symptoms and treatment options. Check back in August to learn more!