Knee Specialists at MidAmerica Orthopaedics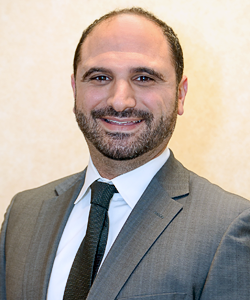 A bad knee can make it extremely difficult to get "back in the game". Outside of sports and exercise, damaged knees can make everyday tasks like sitting, walking, or climbing stairs next to impossible. Knee issues can develop from wear-and-tear over the years or a sustained acute injury.
Treatment for knee injuries range from preventative measures like braces and a knowledge of sports medicine and proper sports technique, to treatment methods like steroid injections, physical therapy, and if needed, surgery.
Knee specialists are doctors who have deep knowledge of the intricacies of the knee joint, and whose goal it is to return their patients to the highest level of knee function and mobility possible.
At MidAmerica Orthopaedics, the team of knee specialists at the Total Joint Clinic will work together to get you back to normal as swiftly and safely as possible. The team takes an integrative approach to treatment, combining physical therapy, non-surgical treatment, and surgical treatment if necessary.
On this team of knee specialists at the Total Joint Clinic is Dr. Sarkis M. Bedikian D.O. He is an orthopaedic surgeon specializing in reconstruction, hip replacement, and knee joint replacement, including the ConforMIS technique.
Dr. Bedikian trained at Midwestern University and is affiliated with the American Academy of Orthopaedic Surgeons and American Osteopathic Academy of Orthopedics, among other professional groups.
Dr. Bedikian's main focus is to improve a patient's quality of life. He approaches treatment with each patient as a collaborative effort and partnership between patient and doctor.
Common Knee Injuries
Our knee specialists, including Dr. Bedikian, are well versed in the treatment of a wide range of knee injuries. Most knee issues stem from some type of arthritic damage. Common knee injuries and the arthritic causes of various knee injuries include:
Osteoarthritis is known as "wear and tear" arthritis. It is the most common source of knee pain and knee damage in adults. With osteoarthritis the cartilage between joints wears away over time, causing the bone to painfully rub together. This friction between bone leads to stiffness, pain, and decreased mobility.
Rheumatoid Arthritis
Rheumatoid arthritis is an autoimmune disorder in which the cartilage between joints is worn away by inflammation of the joint itself. Like osteoarthritis, this causes pain, swelling, and stiffness to the area.
Post-Traumatic Arthritis
Post-traumatic arthritis is caused by direct injury to a joint. A direct blow to the joint may cause acute and ongoing issues and cartilage damage leading to stiffness, pain, and mobility problems.
Treatment
As the condition of the knee joint worsens, it is important to seek treatment as soon as possible. Treatment options may involve pre-op physical therapy, steroid injections, surgery, and post-op physical therapy.
Your knee specialist will try the least invasive methods first and if you're condition does not improve, they will consider whether you make a good candidate for joint replacement surgery.
Surgery
Knee replacement surgery, referred to as knee arthroplasty or total knee replacement, involves the insertion of implants to resurface the joint and replace the missing cartilage. Today, the surgery is typically performed in a minimally invasive manner and with the help of a robotic assistant.
During a minimally invasive total knee replacement, a knee replacement specialist will begin by creating a short vertical incision across the knee to access the joint. From there, a surgeon will cut the surrounding muscle to expose the joint. Finally, they will remove the damaged cartilage and replace each component of the knee joint with implants to recreate a healthy knee joint.
With the ConforMIS knee arthroplasty technology available at MidAmerica, your knee replacement specialist will utilize data from CT scans to create customized implants, leading to a simplified surgery and a knee that suits your unique anatomy. With ConforMIS, your recovery period is drastically decreased compared to traditional knee arthroplasty recovery.
Why MidAmerica?
The knee specialists at MidAmerica are recognized experts in their field, but don't take our word for it.
At MidAmerica, we aim to provide the highest quality care marked by courtesy, respect and integrity. To make an appointment with a knee specialist at the Total Joint Clinic, or to learn more about MidAmerica's Palos Hills and Mokena clinics and the different treatment options available to you, call (708) 237-7200. Most insurance plans are accepted.