Hurt on the Job?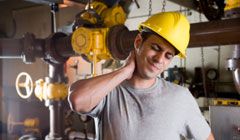 Broken bone, laceration or muscle strain on the job? There are two ways to get treatment.
November 1, 2016
As seen in the Chicago Tribune
One of the most challenging expenses for today's employers is the continually rising cost of workman's compensation claims. With MidAmerica's "Direct to Specialist" approach no longer would an employee need to utilize costly emergency room services, urgent care centers or traditional occupational medicine clinics only to be stabilized and then triaged to the specialist for definitive care for an acute injury.