The Latest in Scoliosis Treatment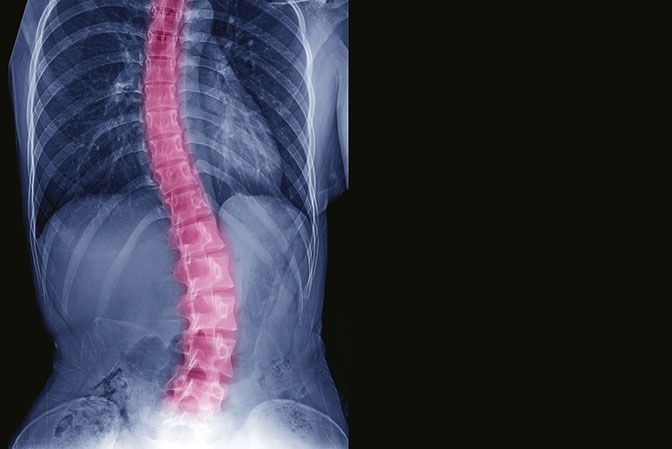 Scoliosis is an abnormal curvature of the spine that typically forms in early childhood. While most cases are so mild they don't necessitate treatment, some cases have been linked to serious conditions such as muscular dystrophy and cerebral palsy. Fortunately, recent developments in youth orthopaedic medicine are making even these cases easier to treat.
Contrary to certain persisting myths about scoliosis, a diagnosis doesn't necessarily translate to back braces and surgery. Most cases are mild, not painful, and don't require anything more than checkups two or three times a year. And while the idea of your child undergoing surgery can certainly be scary, these days you can choose from newer, more advanced possibilities for treating childhood scoliosis.
Differences in Severity Determine Treatments for Pediatric Scoliosis
Physical therapy and muscle stimulation remain effective forms of treatment for patients with milder cases of scoliosis. However, severe cases can cause new, debilitating problems to form:
The spine may twist, causing back pain.
The ribcage may appear uneven.
Lung function may become limited.
On the rare occasion of severe scoliosis, your child's physician might recommend a back brace or surgery. Roughly 30 percent of young patients with scoliosis need bracing and about 10 percent require surgery, according to a pediatric orthopaedic expert at Johns Hopkins.
Newer Scoliosis Treatments
Thanks to newer technologies, surgeons today routinely use robotic assistance during complicated spinal operations, including ones that treat scoliosis. Imaging is often used to help the surgeon navigate properly during complex surgeries. This often requires a specialist to monitor the patient's spinal cord to alert the surgeon of any effects to the spine.
Take a look at some more recent, innovative developments in the treatment of scoliosis:
Spinal Fusion
Spinal fusion involves linking adjoining vertebrae in the problem area of the patient's spine. During a spinal fusion, two or more vertebrae are permanently fused, eliminating motion between them. This procedure is generally safe and has a high success rate. It would only be recommended to treat your child's scoliosis if their symptoms haven't been relieved by nonsurgical treatments such as medications and physical therapy.
Thanks to advancing technology in recent years, more patients who require the procedure are opting for minimally invasive options to reduce their recovery times and chances of complications. One upside is that the fusion is designed to mimic the normal healing process of broken bones. The surgeon typically places bone or a bonelike material in the space between the affected vertebrae. Other materials may be used to hold the vertebrae together so they can heal into a single, solid unit.
Vertebral Body Tethering (VBT)
Tethering surgery is sometimes recommended to correct the curvature of a young patient's spine and preserve its natural growth and function so the child can participate in everyday activities. During the procedure, the surgeon typically makes several small incisions and places screws along the outer edge of the curvature. A strong, flexible cord is then threaded through the screws and tightened to help straighten the spine.
When successful, VBT can preserve the patient's motion and spinal growth over time. In some situations, it's also viewed as a way to avoid potential complications of fusion surgery.
Expanding Rod
When scoliosis is progressing quickly in a young child, the insertion of an expanding rod may be recommended. This procedure would involve attaching one or two expandable rods along the spine. As the child grows, the rods are lengthened periodically, a process that can be done either with surgery or by remote control.
Treating Children with Scoliosis at MidAmerica Orthopaedics
Scoliosis is typically diagnosed through an analysis of the child's medical history, x-rays and a physical exam. The doctor may also recommend an MRI or neurological exam if there is reason to suspect an underlying condition is contributing to the problem.
Every patient is different, and which treatment plan is right for your child will depend on a host of factors. While choosing surgery for your child can be a difficult decision to make, in severe cases doing so sooner may be more beneficial than waiting until the problem worsens.
The pediatric orthopaedic specialists at MidAmerica take the severity, pattern and location of the curve – as well as patient's age – into consideration when recommending treatment. The sooner children can start receiving orthopaedic care, the better chance they have to develop at an appropriate rate with as minimal disruption to their life as possible.
The experts at MidAmerica's Palos Hills and Mokena clinics are experienced in diagnosing and treating patients everywhere on the scoliosis spectrum. To find out more about options for your child, contact us to set up an appointment today.