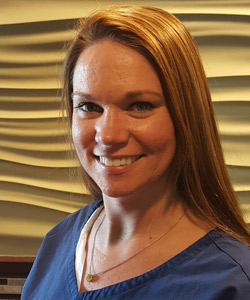 Rhonda Krisik is a 2012 graduate of the Fox College Physical Therapist Assistant program in Tinley Park, IL. Since graduating, she has worked in a wide variety of settings including outpatient orthopedic, skilled nursing, as well as home health services.
Through all of her experiences, she enjoyed the variety of diagnoses and patient population that the outpatient setting offered. She brings with her a passion for assisting patients through a combination of hands on manual therapy, patient specific therapeutic exercises, and neuromuscular reeducation techniques.
Rhonda takes pride in treating the "whole patient" when customizing and modifying treatments, to ensure that the patients functional needs, abilities, and goals are addressed accordingly. Rhonda believes that exercise is an essential component to a healthy lifestyle. She promotes movement, proper body mechanics, and postural awareness to help her patients achieve optimal physical results and reduce the likelihood of further injuries.