Bone Spurs Palos Hills, Mokena and Chicago
Bone spurs are projections of the bone that develop along the bone's edge. They can develop throughout the body in the knees, fingers, shoulders, hips, and spine. Patients can find significant relief from bone spurs through home treatment, physical therapy, and in worst-case scenarios, surgery.
Causes & Symptoms
While bone spurs can occur throughout the body, a person may be experiencing spinal bone spurs if they have symptoms including:
a pinching-like pain in the back
weakness and numbness in the arms and legs.
Bone spurs that occur along joints, especially those in the knees and fingers, are often connected to osteoarthritis. Osteoarthritis is a rheumatoid disease that breaks down the cartilage between bones. When this happens, a person's body may try to compensate for the lost cartilage by creating bone spurs to fill the area. While many people do not experience the pain, numbness, or tingling symptoms associated with bone spurs, they may eventually need treatment.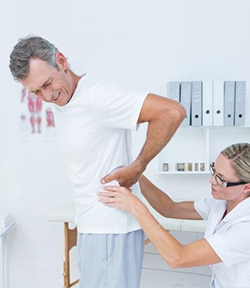 Diagnosing Bone Spurs
Bone spurs may be diagnosed by a physician after describing pain symptoms or a lessened range of motion in the joints. If you have a bone spur, there's a chance it can be felt externally. Additionally, because symptoms associated with bone spurs can take time to develop, a person may not be diagnosed with bone spurs until after receiving an x-ray or other imaging tests for a different condition. In order to receive the most accurate diagnosis, however, it is recommended that patients keep a record of when, where, and how often they experience symptoms.
During a physical exam, you can expect your doctor to feel around the affected joint in order to pinpoint the problem.
Treating Bone Spurs
If you are experiencing bone spurs, physical therapy, over-the-counter pain relievers, and chiropractic adjustments are common forms of treatment. Should the bone spurs limit your range of motion or cause chronic tingling and numbness, surgery is also an option.
When it comes to bone spurs of the spine, consider a consultation with MidAmerica Orthopaedics for Minimally Invasive Spine Surgery (MISS). MISS is known to alleviate pain and neurological symptoms caused by bone spurs and thickened ligaments.
If surgery is decided upon, some post-surgery pain is to be expected. MidAmerica's advancements in post-surgery physical therapy and pain management can help relieve discomfort.
Post-Surgery
In the postoperative phase at MidAmerica Orthopaedics, a number of patients participate in our physical therapy and rehabilitation program. During this program, a patient's recovery time varies based on the severity of the condition and will be evaluated on a case-by-case basis. By learning and refining a series of stretches and exercises recommended by our certified therapists, we put patients back on the path towards living a normal life.
MidAmerica Orthopaedics offers a variety of treatment options that are customized for your needs. To learn more about our services, visit our website.
To schedule an appointment with MidAmerica Orthopaedics, call (708) 237-7200.