Symptoms and Treatments of Chronic Neck Pain
It can be hard to hold your head high when you constantly suffer from neck pain. A crick in the neck, or a stiff and aching neck can make your day miserable. If you suffer from chronic neck pain, it can seriously affect your work, free time, and everyday life.
If you've been plagued by chronic neck pain, there's no need to continue to suffer in silence. Read on to learn more about what chronic neck pain looks like, the causes behind it, and treatment options available to you. Chronic pain does not need to rule your life.
Symptoms
Neck pain is one of the most commonly experienced types of physical pain. Studies show that 14-22 percent of the general population report having chronic neck pain.
Symptoms associated with chronic neck pain include:
Stiff neck
Constant pain in any area of the neck
Headaches, dizziness, and lightheadedness
Throat pain
Tingling or weakness in the arms
Sharp shooting pain
Limited range of motion
Difficulty swallowing
Swelling of the lymph nodes
Facial, shoulder, or back pain
If you have pain and symptoms that last three to six months or more you may be experiencing chronic neck pain.
Causes
So what causes chronic neck pain? Neck pain can be caused by a number of conditions and diseases. Common causes of both acute and chronic neck pain include:
Neck strain
Poor posture
Poor positioning of the neck while sleeping
Acute neck injury
Pinched nerves
Herniated discs
Inflammation causing infections
Degenerative disc disease
Osteoarthritis
Spinal stenosis
Muscle conditions such as fibromyalgia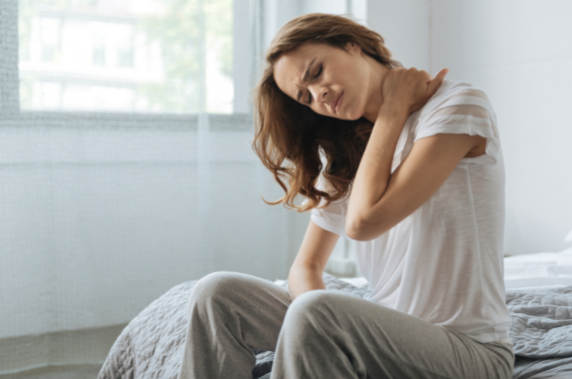 Getting to the root of your chronic pain symptoms will help your orthopaedic specialist best formulate a plan for treatment and pain management.
Treatment
When it comes to chronic pain, treatment seeks to meet three main goals:
Reduce pain
Increase function in day to day life
Decrease reliance on medication and other pain management procedures
Unfortunately, due to the nature of chronic conditions, a cure is not always possible. However, pain management can help make day to day life comfortable again.
Non Surgical Treatments
Non surgical treatments for managing chronic neck pain include:
Ice and heat therapy
Physical therapy to strengthen muscles that stabilize and support the neck
Check out our blog for pain reducing stretches you can do at work
NSAIDs and prescription pain medications
Steroid injections
Lumbar puncture which is a spinal tap that can accurately diagnose, and subsequently treat conditions
Surgical Treatments
Depending on the cause of your chronic neck pain, surgery may be necessary. Your orthopaedic specialist will approach treatment through less invasive means before considering surgery. Surgical treatment for chronic neck pain may include disc fusion or decompression surgery.
Pain Management at MidAmerica Orthopaedics
Ebby P. Jido, MD joins the team at MidAmerica Orthopaedics as a Pain Management/ Anesthesiology expert specializing in the nonsurgical management of chronic pain. Dr. Jido treatment approach focuses on interventional pain medicine and multidisciplinary evidence-based treatment of chronic pain.
With 21 years of experience, Dr. Jido crafts personalized pain management plans that work in tandem with surgeons, physical therapists, and primary care physicians to effectively manage pain and return patients to a comfortable day to day life.
To learn more about MidAmerica Orthopaedics and the different treatment options available to you, request an appointment online or call (708) 237-7200. MidAmerica Orthopaedics serves various areas such as Chicago, Tinley Park, Palos Hills, Mokena, Evergreen Park, New Lenox, Oak Lawn, Orland Park, and more.