How to Respond to Workplace Injuries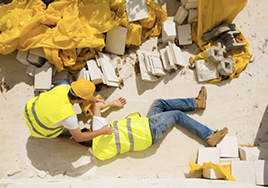 An unfortunate reality of many physically demanding jobs is that accidents and injuries happen. Whether it's a fall from a ladder, a run in with some faulty equipment, or a bad knee that develops after years of heavy lifting, injuries can be hard to avoid. Because of this, it's important, as an employer, to have a solid workers' compensation program in place so you can take care of employees, protect yourself and your business.
One of the first things you should do as a business owner is create a workers' compensation plan. You are required by law to purchase insurance that covers workplace injuries. This will insure employees receive benefits, if injured, and will also help protect you against lawsuits. In addition to purchasing insurance, create a comprehensive plan on what employees should do in the case of an accident, and make sure employees are in the loop. Keeping an open rapport with employees on the matter of workers' compensation will ensure that employees know their rights and coverage, and will promote a greater sense of trust between employer and employee.
Steps To Take
If you're an employee injured on the job, or if you are an employer and an employee is injured, there are a few steps you should follow after injury occurs:
Seek first aid. The first order of business is to assess the injury and receive immediate first aid treatment. Assess the situation and if the injury is severe or life threatening, call 911.
Notify your supervisor as soon as possible. In the case of an acute injury, report the injury and how it occured to your supervisor. Employees who do not report the injury in writing within 30 days may lose their workers' compensation benefits. In addition to reporting the injury to your supervisor, file a report with your workers' compensation providers.
Work with the insurance providers. If a claim is pursued, both employee and employer should cooperate and work patiently with their workers' compensation insurance providers and attorneys to process the claim as efficiently as possible.
Follow the doctor's orders. If the injury does not land you in an ambulance, you still need to seek treatment. Employees may need to work with employers when choosing a doctor that is covered by their workers' compensation plan. Once in treatment, focus on healing so as to recover as fully and quickly as possible.
Return to work as soon as you are able. Employees should take their time to focus on recovering but keep their employer updated. Employers should encourage them to return soon but, respect their recovery and welcome them back warmly. Disability payments represent over 50% of most workers' compensation claims, so as an employer, helping your employee feel ready to come back to work will save you money on the claim.
MidAmerica's Approach
At MidAmerica Orthopaedics, we take a different approach to workers' compensation in order to reach a place that best benefits the employee, employer, and reduces workers' compensation cost. While prevention should be a key part of your approach — from ensuring your workplace is following industry safety guidelines to requiring pre-employment physicals and drug testing — your approach to treatment after an injury occurs is equally as important. Coming directly to an orthopaedic immediate care clinic, like MidAmerica Orthopaedics, will save you time and money on referrals from other doctors.
We strive for efficiency in our approach to workers' compensation cases by providing direct-to-specialist care. With our dedicated orthopaedic specialists, in-house case management, on-site surgery center, physical therapy, and return-to-work program, your employee will be able to receive all their treatment with one provider. Receiving treatment at one provider will allow employees to heal as quickly and efficiently as possible, and return to work in a more timely manner, while also making claim management easier for employers.
For more information on MidAmerica Orthopaedics Occupational Health Program, please contact David Adam, Director of Workers' Compensation Services at 708-237-7206.