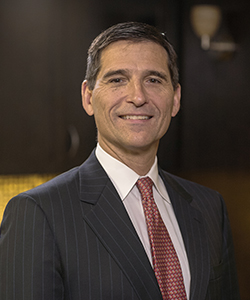 Physical Medicine and Rehabilitation
George Charuk, D.O. is a board certified specialist in Physical Medicine and Rehabilitation (PM&R). Dr. Charuk understands that pain can be a major hurdle to all kinds of daily activities, and believes that the best way to heal the body is to help the body heal itself.
To that end, he favors treatment of the neck and low back problems using a comprehensive program of minimally invasive, non-operative techniques, medication, physical therapy and alternative techniques.
Procedures performed by Dr. Charuk include epidural steroid injection, facet injection, sacroiliac joint injection, radiofrequency ablation, platelet-rich plasma (PRP) injection and prolotherapy. Dr. Charuk and his team customize a course of treatment for each patient based on their specific needs and medical history. Ultimately, the goal is to help you feel better and resume your normal activities using the combination of treatments that best suits your unique situation.
Dr. Charuk completed his internship and residency in PM&R at Union Hospital in Union, NJ, serving as chief resident in his final year. He has been in practice for over 20 years and his work experience includes both inpatient and outpatient care. He also has worked in academia, teaching residents and medical students at Loyola-Stritch School of Medicine.
Dr. Charuk is an international speaker on spine health and rehabilitation topics. He has written articles and medical textbook chapters on spine health, rehabilitation and sports medicine. He is a member of AAPMR, NASS, SIS and AOCPM&R, where he serves as an oral in board examiner.
Education
1990 – 1993: Residency in Physical Medicine and Rehabilitation, Loyola University Medical Center, Maywood, Illinois
1989 – 1990: Rotating Internship, Union Hospital, Union, New Jersey
May 1998: Master of Business Administration, Mercer University, Macon, Georgia
May 1989: Doctor of Osteopathic Medicine, Philadelphia College of Osteopathic Medicine, Philadelphia, PA
May 1984: Bachelor of Arts, Chemistry, Loyola University of Chicago, Chicago, IL