Symptoms of Carpal Tunnel Syndrome and Treatment
Carpal Tunnel Syndrome (CTS) is a pinched nerve in the wrist that can cause, numbness and tingling in the hand and arm. It is due to compression of the median nerve, which passes through the carpal tunnel at the base of the wrist and into the hand.
As pressure builds within the carpal tunnel, the median nerve no longer conducts electricity properly which leads to the symptoms of numbness and tingling in the hand and fingers. As Carpal Tunnel Syndrome progresses it may limit your ability to work, participate in sports, or perform daily activities.
It's a condition that affects nearly 3 million Americans annually.
Symptoms & Causes
Symptoms of CTS occur in the fingers, hand, or wrist. Classically the thumb, index, middle, and one-half ring finger are involved, but any combination of thumb and fingers may occur. Carpal Tunnel Syndrome can affect just one hand, or both, and women are generally more prone to this condition than men. You may initially notice symptoms occurring at night or after strenuous activity.
Tingling
Numbness
Weakness
Pain
Actions and diseases that can lead to developing Carpal Tunnel Syndrome include:
Wrist injuries
Diabetes
Rheumatoid Arthritis
Pregnancy
Obesity
Hypothyroidism
Repetitive hand and wrist motions
An abnormally narrow carpal tunnel due to genes/gender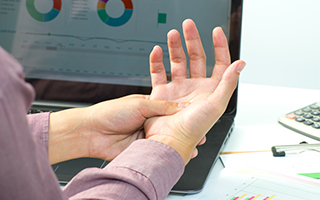 Common Misconceptions
There are two common misconceptions surrounding Carpal Tunnel Syndrome:
Myth #1: Typing is Responsible for the Condition
While fast, repetitive movements of the hand and wrist can cause Carpal Tunnel Syndrome, there is a lack of evidence supporting typing as a leading factor. Typing for hours a day can be uncomfortable for your wrists, but it is unlikely that it is the primary cause of Carpal Tunnel Syndrome.
Myth #2: Wrist Pain Equals Carpal Tunnel Syndrome
Everyday pain in the wrist does not equate to Carpal Tunnel Syndrome. Wrist pain can indicate a number of conditions, including arthritis or tendonitis. Numbness and tingling in the hand are the main symptoms of Carpal Tunnel Syndrome.
Non-Surgical Treatments
Non-surgical treatment for Carpal Tunnel Syndrome include:
Rest
Avoid activities that involve hand or wrist movements
Ice and wrist splints
Anti-Inflammatory drugs
Corticosteroid injections
If those treatments are unsuccessful, then surgical release of the carpal tunnel provides definitive treatment.
Surgical Treatments
Carpal tunnel release surgery is done as either an open procedure with an incision in the palm or less commonly as an endoscopic procedure. The transverse carpal ligament is cut to relieve pressure on the median nerve.
Carpal Tunnel Surgery can be performed under local anesthesia, sedation or general anesthesia depending upon patient preferences. Immediate use of the hand after surgery is encouraged for speed recovery. Hand Therapy sessions start 7-10 days after surgery.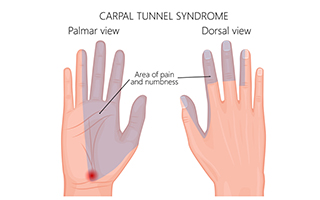 The Hand to Shoulder Clinic at MidAmerica Orthopaedics is devoted exclusively to treating patients with injuries and conditions of the hand and upper extremity.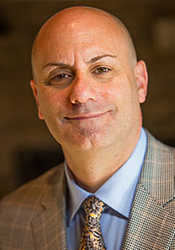 Your Next Steps
For
specialized care
, turn to MidAmerica Orthopaedics' Hand and Upper Extremity Surgeons,
Dr. Gary A. Kronen
and
Dr. Anton J. Fakhouri
.
Dr. Kronen's expertise lies in treating conditions of the hand and upper extremities including carpal tunnel syndrome, trigger finger, arthritis, tendonitis, as well as, traumatic injuries. He has been recognized by "The Leading Physicians of the World" and America's Top Surgeons as being one of the Premier Hand Surgeons in the United States.
Dr. Fakhouri is a board certified orthopaedic surgeon, specializing in treating trauma and fractures of the upper extremity, bone and soft tissue reconstruction, and microsurgical limb reconstruction. He holds a special interest in the treatment of carpal tunnel syndrome, tendonitis, arthroplasty of the fingers, and arthritis of the hand, wrist and elbow.
To learn more about MidAmerica Orthopaedics and the different treatment options available to you, visit our website.
To schedule an appointment with MidAmerica Orthopaedics Hand and Upper Extremity Surgeon, Dr. Gary A. Kronen, call (708) 237-7200.
To schedule an appointment with MidAmerica Orthopaedics Hand and Upper Extremity Orthopaedic Specialist, Dr. Anton J. Fakhouri, call (708) 237-7200.