MidAmerica Welcomes Dr. Prasad Gourineni to Staff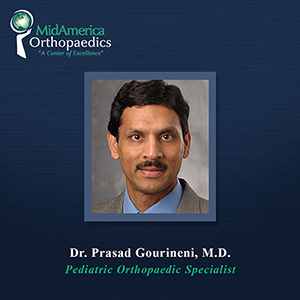 MidAmerica Orthopaedics is proud to welcome Pediatric Orthopedic Specialist Dr. Prasad Gourineni, MD to our practice on June 1.
With over twenty years of experience under his belt, Dr. Gourineni comes to MidAmerica Orthopaedics after practicing in nearby communities.
Dr. Gourineni completed medical school at Andhra Medical College, India, as well as residencies at Mangalore and Northwestern Universities. After discovering his aptitude for hip preservation, Dr. Gourineni completed fellowships in Vail, CO, Dallas, TX, and Bern, Switzerland, acquiring vast amounts of knowledge about open surgical dislocation and hip osteotomies.