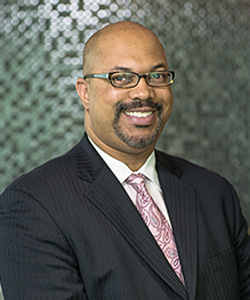 Neurological Surgeon
Dr. Jackson is a Board Certified Neurological Surgeon. He specializes in both minimally invasive spinal surgery (outpatient microdiscectomys and percutaneous fusions, etc.) as well as aggressive spinal tumor resection and reconstruction with instrumentation. He also remains interested in cranial surgery, peripheral nerve surgery, and Chiari malformations.
Dr. Jackson is a member of the Congress of Neurological Surgeons, the American Association of Neurological Surgeons, and the North American Spine Society.
Dr. Kevin M. Jackson graduated from the University of Notre Dame, where he earned his Bachelors of Science Degree and participated on the track and field team. He attended Meharry Medical College in Nashville, Tennessee and graduated with honors. His outstanding performance in medical school caught the attention of Dr. Benjamin Carson, the world renowned pediatric neurosurgeon at Johns Hopkins Hospital, and he was invited as a medical student to rotate on Dr. Carson's bustling surgical service.
Dr. Jackson completed his neurosurgical residency at Indiana University distinguishing himself as an outstanding instructor for fellow residents and medical students alike. He has published numerous clinical and scientific papers in the field of neurosurgery and has designed multiple surgical instruments advancing the technology of spinal procedures.
Board Certification / Education
Medical School: Meharry Medical College
Internship: Indiana University School Of Medicine
Residency: Indiana University School Of Medicine
Professional Affiliations
Congress of Neurological Surgeons
American Association of Neurological Surgeons
North American Spine Society
Clinical Interest
Spine Disorders
Minimally Invasive Spine Surgery
Bone Spurs
Osteoporatic Fractures
Spine Trauma
Spinal Instrumentation