Common Baseball Injuries: Part 1 Rotator Cuff
Baseball season is in full swing and with it comes celebrated wins, upsetting losses, and inevitable injuries. While we hope your season doesn't result in the latter, we want to make sure you know where to turn if it does. This three-part blog series outlines three common baseball injuries: Rotator cuff tears, knee injuries and elbow tendonitis. So no matter what position you're playing on the field, you know where to turn to for the care you need.
Rotator Cuff Tears
Rotator cuff tears are a common baseball injury, especially for pitchers. Your rotator cuff keeps your arm in its socket. It's made up of a group of four muscles that combine as a tendon to help rotate and move your arm. This is why pitchers often fall victim to this injury.
Description
A rotator cuff tear happens when one or more of your tendons tears and becomes either fully or partially detached from the upper arm bone, called the humerus. The injury usually starts with tendon frays and takes an expeditious movement, like a fastball pitch, to result in an actual tear. While supraspinatus tears are the most common, other parts of your rotator cuff may be involved.
Two Types of Tears
When dealing with rotator cuff tears, there are generally two types: partial and full-thickness.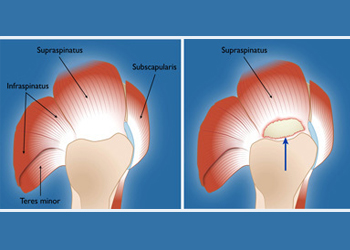 In the image, the left side gives an overhead view of the four tendons that form the rotator cuff and stabilize the joint. The right side gives a full-thickness tear (blue arrow) in the supraspinatus tendon, the most common location for rotator cuff tears.
Treatments
Ice. Apply ice to the affected area for 15-20 minutes, three times a day. This will help reduce swelling and inflammation.
Strengthening exercises and physical therapy. When you have the pain under control, it's vital to incorporate specific stretches to restore movement as well as specific strength builders into your daily routine to prevent future damage. MidAmerica Orthopaedics' sports injury physicians and physical rehabilitation therapists can help.
Recommended Physicians
If you are still experiencing pain and discomfort after following the above treatments, it's time to see a physician.
Berverlee A. Brisbin, MD, FAAFP of MidAmerica Orthopaedics in Palos Hills, IL specializes in sports medicine and non-operative orthopaedics. Brisbin believes in improving quality of life so patience can get back to doing the things they love. As the USA's Women's Soccer Team Physician and lead physician for a group of high school sports teams, she is highly experienced in sports injuries.
To schedule an appointment with MidAmerica Orthopaedics' Sports Medicine and Non-Operative Orthopaedics Physician, Dr. Berverlee A. Brisbin, MD, FAAFP, call (708) 237-7200.
Adam F. Meisel, MD of MidAmerica Orthopaedics in Palos HIlls and Mokena, IL is an orthopaedic surgeon with specialty training in sports medicine and arthroscopy. Meisel stays on the cutting edge of medicine by continuing active research, specifically in rotator cuff repairs. His goal is to help patients regain and maintain an active lifestyle, whether as athletes or weekend warriors.
To schedule an appointment with MidAmerica Orthopaedics' Sports Medicine and Arthroscopy Specialist, Dr. Adam F. Meisel, MD, call (708) 237-7200.
MidAmerica Orthopaedics offers a variety of treatment options that are customized for your needs. To learn more about our services, visit our website.